Your horse deserves to feel their best!
Regular price
$26.00
Sale price
$26.00
Unit price
per
Sale
Sold out
You asked, and we answered! 
We have now formulated a NEW version of our flagship B Gone White Line Treatment product into a clay base. 
B Gone Hoof Clay is just as effective with the same active ingredients as our original B Gone White Line Treatment. It's easy to apply and works both on shod and barefoot horses. Hoof Clay is another option to make treating your horse's white line disease simple, easy, and effective! 
Hoof Clay is also a great option for packing nail holes to prevent fungal infections, as well as packing the frog and heel crevices to treat and prevent thrush. Simply clean out the hoof as normal, and pack in Hoof Clay as deep as you can into the collateral and central frog grooves. Repeat as needed. 
DIRECTIONS: Make sure hoof is clean and dry. Clean affected area as much as possible. Apply B Gone Hoof Clay to the affected area as a hoof packing. Do not mix with other products. Reapply weekly. 
INGREDIENTS: benonite clay, copper sulphate, epsom salts, glycerine, tea tree oil, propylene glycol, water, cornmint oil 
WARNING
EQUINE USE ONLY. DO NOT INGEST. FOR EXTERNAL USE ONLY. WEAR GLOVES WHEN APPLYING. WASH HANDS THOROUGHLY AFTER APPLYING. USE IN WELL VENTILATED AREA. KEEP OUT OF REACH OF CHILDREN. STORE IN A COOL, DRY PLACE. DO NOT USE ON OPEN WOUNDS. KEEP AWAY FROM OPEN FLAMES. CONSULT YOUR VETERINARIAN FOR DIRECTIONS OUTSIDE OF LABELED USE.
View full details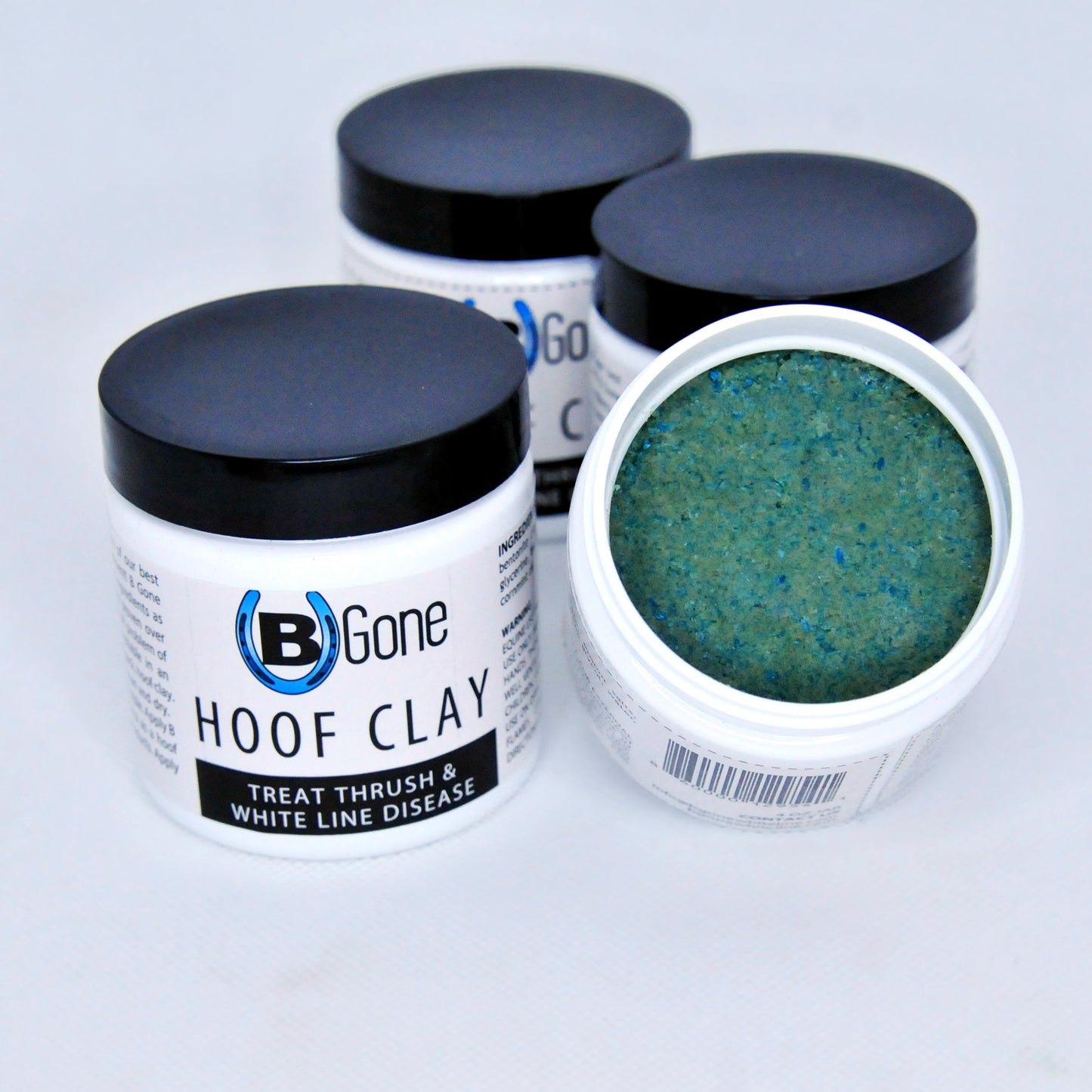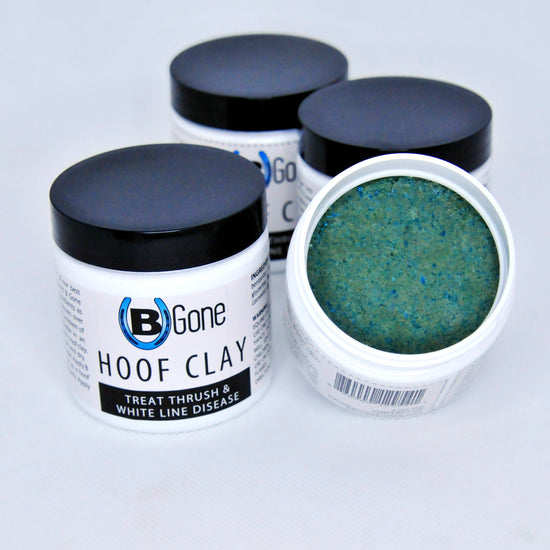 Dry, unusable
The clay was a waste of money. It arrived dried out and unusable and no attempt to rehydrate it worked. I love the B Gone Gel but I'll never purchase the clay again. 0/5
It works!
You won´t find anything comparable in Europe.
You should also sell it in Europe.
Took my order NEVER Shipped it!
I opted to buy directly bc I couldn't find this specific product locally. I'm sure it works as well as their other products, but I'll never know. Placed an order and they never shipped it. Sent an email to customer service when it was around two weeks late, zero response. Reached out to their social media, zero response. Finally decided to text the numbers to the sales reps- so far NO RESPONSE…. If the company has been bought out or manufacturing has been disrupted they need to notify their customers. Today is 11/20/23
White Line B Gone!
I'm a farrier in middle Tennessee and a client of mine had a horse who had severe white line in both front hooves. Due to the mud and moisture the horse was living in and no way for the owner to stall the horse, the resection I performed, a regular shoeing cycle and regular cleaning by the owner was keeping it from growing as fast, but the anti-bacterial solutions (including several name-brand solutions that has worked on other cases) weren't strong enough to help. My client finally tried B Gone after cleanings and I would put it under the pad and shoe when I would be out, and within two cycles the white line had significantly decreased and the horse is getting close to being phased out of his pads and then shoes! Excellent product and I am a firm believer now. Thanks B Gone.