Your horse deserves to feel their best!
Regular price
Sale price
$26.00
Unit price
per
Sale
Sold out
You asked, and we answered! 
We have now formulated a NEW version of our flagship B Gone White Line Treatment product into a clay base. 
B Gone Hoof Clay is just as effective with the same active ingredients as our original B Gone White Line Treatment. It's easy to apply and works both on shod and barefoot horses. Hoof Clay is another option to make treating your horse's white line disease simple, easy, and effective! 
Hoof Clay is also a great option for packing nail holes to prevent fungal infections, as well as packing the frog and heel crevices to treat and prevent thrush. Simply clean out the hoof as normal, and pack in Hoof Clay as deep as you can into the collateral and central frog grooves. Repeat as needed. 
DIRECTIONS: Make sure hoof is clean and dry. Clean affected area as much as possible. Apply B Gone Hoof Clay to the affected area as a hoof packing. Do not mix with other products. Reapply weekly. 
INGREDIENTS: benonite clay, copper sulphate, epsom salts, glycerine, tea tree oil, propylene glycol, water, cornmint oil 
WARNING
EQUINE USE ONLY. DO NOT INGEST. FOR EXTERNAL USE ONLY. WEAR GLOVES WHEN APPLYING. WASH HANDS THOROUGHLY AFTER APPLYING. USE IN WELL VENTILATED AREA. KEEP OUT OF REACH OF CHILDREN. STORE IN A COOL, DRY PLACE. DO NOT USE ON OPEN WOUNDS. KEEP AWAY FROM OPEN FLAMES. CONSULT YOUR VETERINARIAN FOR DIRECTIONS OUTSIDE OF LABELED USE.
View full details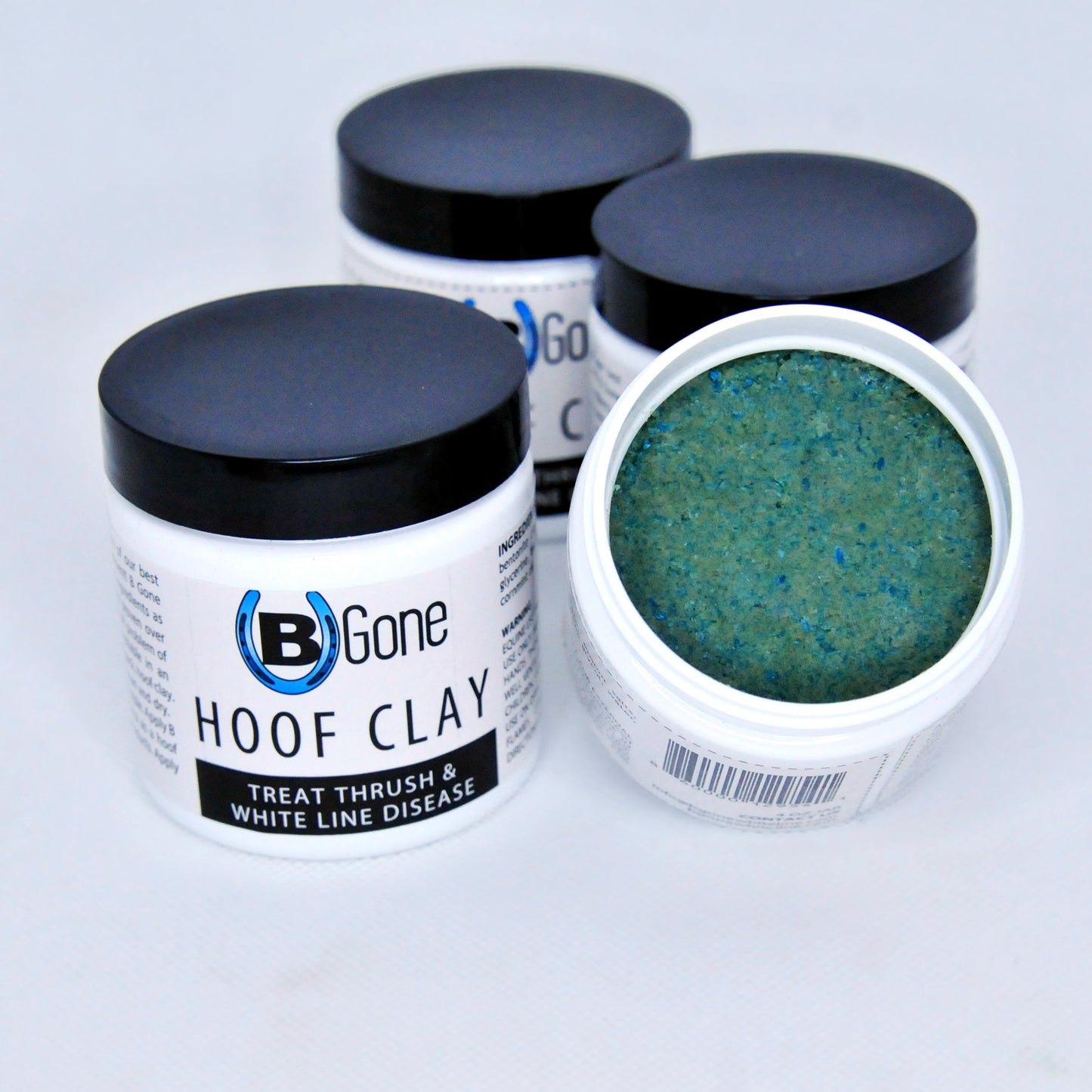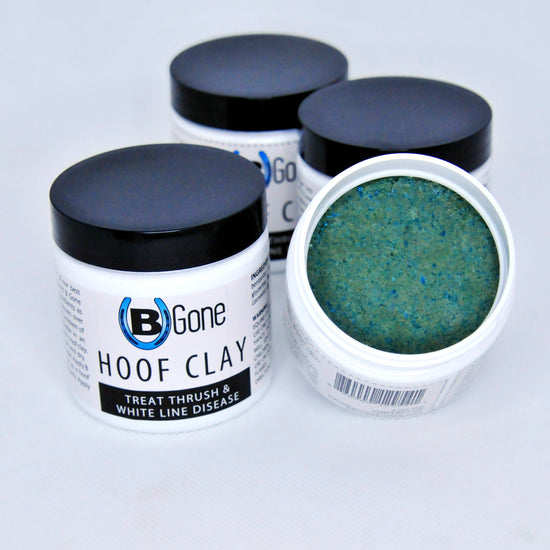 Very dry products
They clay is fine...but seemed dry. The product that is in the tube also was very difficult to get out and was also very dry.
Both products did not stay in the crevices. So, to be honest ,
I am disappointed. In the photos the product in the tube has a lot more liquidity to it.
Excellent!
Used for a few weeks and really helped the white line not spread and reduce.
This product is AWESOME AND WORKS GREAT!
USED this for 2 months and now cannot even tell there was any problem at all with my horses feet with the white line disease. It is all gone!
Great product! I would recommend this product highly!
Wonderful product!
I tried this product about 5 months ago in the tube but found that it didn't stick like I was hoping but it showed great results. Then I went back and bought this clay. Boy has it made a difference! I've been use it it about a month and it is healing my guy's thrush. Yes that's right thrush. I use to use a powder which works well however the fact that you can clean the area out with a hose them dry and pack the clay in has made a miraculous change. I highly recommend this product to any horse friend that struggle with while line or thrush due to being located in a high moisture area.