Your horse deserves to feel their best!
Regular price
Sale price
$26.00
Unit price
per
Sale
Sold out
B Gone White Line Treatment stops potentially crippling white line disease in horses' hoofs. Simply apply B Gone White Line Treatment to the affected area. No more caustic chemicals or soaking boots. It really works and it's affordable too! 
B Gone White Line Treatment is the only solution endorsed by professional farriers to stop white line disease (WLD) in its tracks. B Gone White Line Treatment is easy-to-use and effective because it's applied directly to the infected hoof area using a convenient 60cc syringe. Its blend of proprietary ingredients is the only product that halts equine white line disease, even on stubborn, long-term white line cases. It's affordable and really works!
B Gone Treats These Common Issues Too
Seedy Toe
Toe Cracks
Brittle Hoof Wall
Stall Rot
Hollow Foot
Wall Thrush
DIRECTIONS: Clean the bottom of the hoof of dirt and debris. Remove shoe, if possible and applicable. Using a nail, debride the affected area of white line. Apply a thin line of B Gone White Line Treatment around the white line. Treating areas of the white line that appear healthy will do no harm. Reapply once a week for barefoot horses or each shoeing cycle for shod horses until hoof wall has completely grown out. 
INGREDIENTS: copper sulphate, epsom salts, glycerin, tea tree oil, artificial color
WARNING

EQUINE USE ONLY. DO NOT INGEST. FOR EXTERNAL USE ONLY. WEAR GLOVES WHEN APPLYING. WASH HANDS THOROUGHLY AFTER APPLYING. USE IN WELL VENTILATED AREA. KEEP OUT OF REACH OF CHILDREN. STORE IN A COOL, DRY PLACE. DO NOT USE ON OPEN WOUNDS. KEEP AWAY FROM OPEN FLAMES. CONSULT YOUR VETERINARIAN FOR DIRECTIONS OUTSIDE OF LABELED USE.
View full details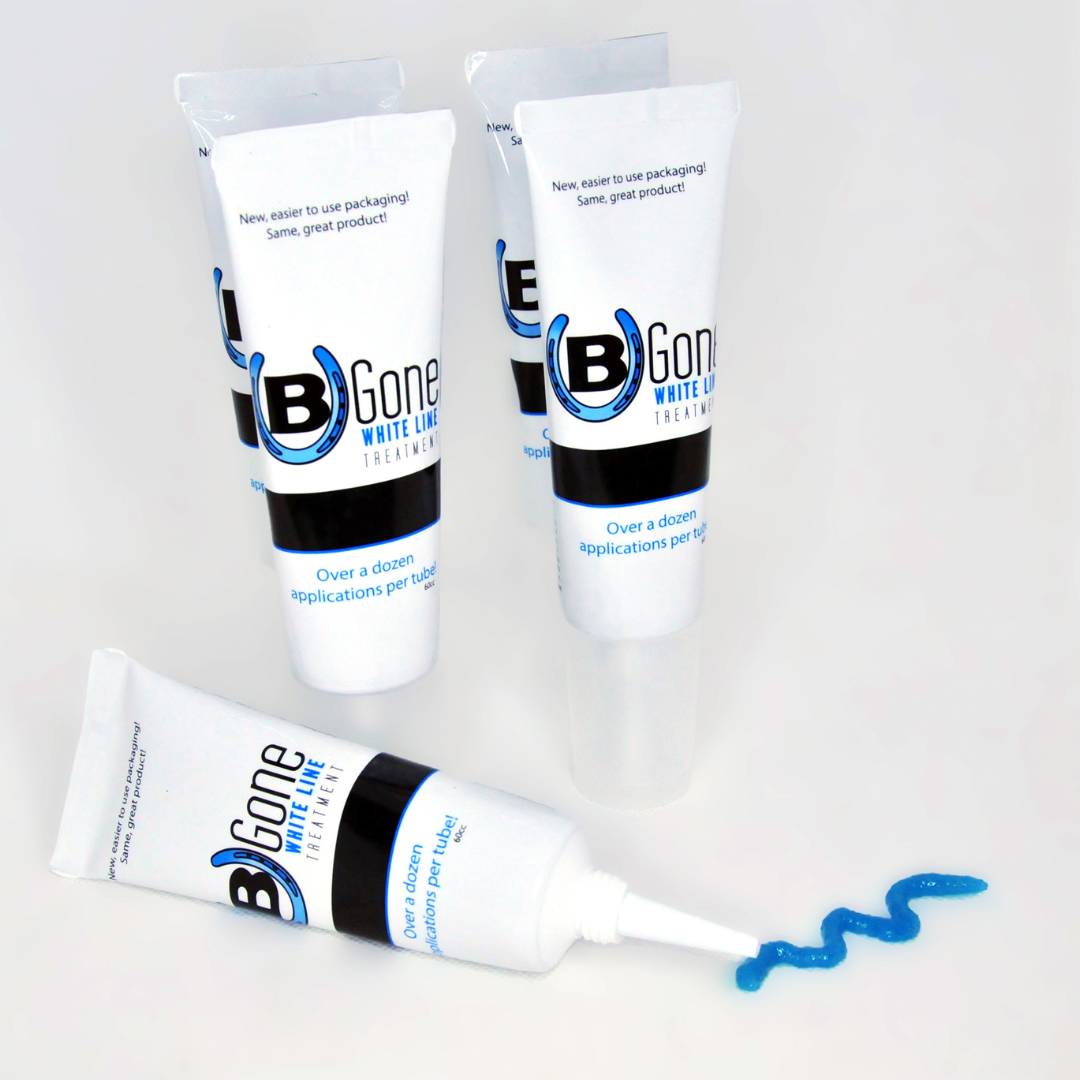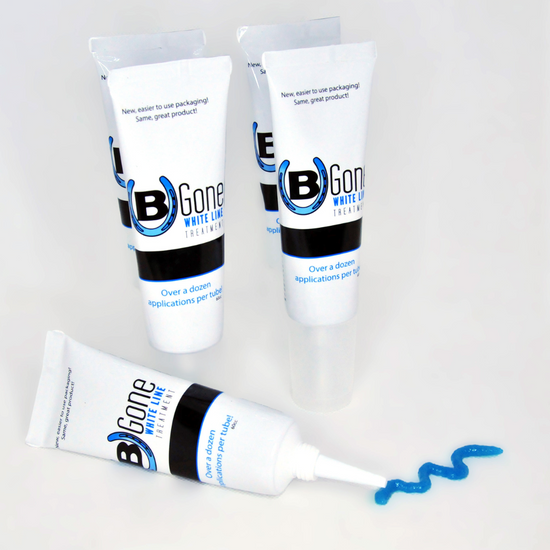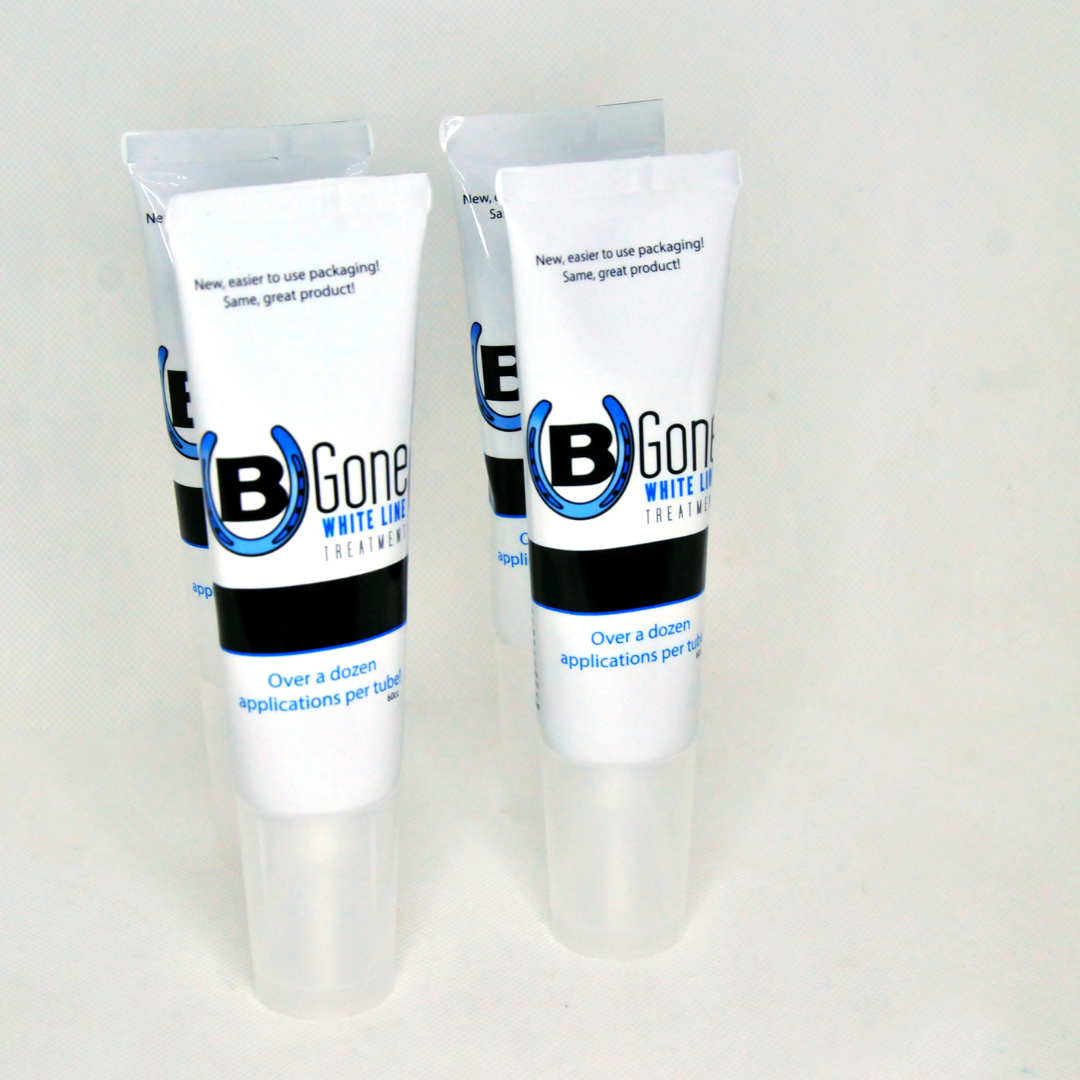 B gone white line teatment
So far so good! I have used several other products and this product has shown the most promising results.
Only white line treatment that works
Only white line treatment that works
Donkey
Easy to apply. Actually smells good and did not bother the donkey. Saw much improvement on the hoof by the 2nd week. Hope to never have to use it again, but if I do I highly suggest using B Gone! It's the only one to use!
The Best stuff!
My husband does the trimming and treating for our 3 girls. He says nothing else works like B Gone. We won't be using any other treatment.
Treating white line on my donkeys
I have been using this product diligently on my donkeys white line. It is making visible progress in healing it. My farrier was very impressed